Description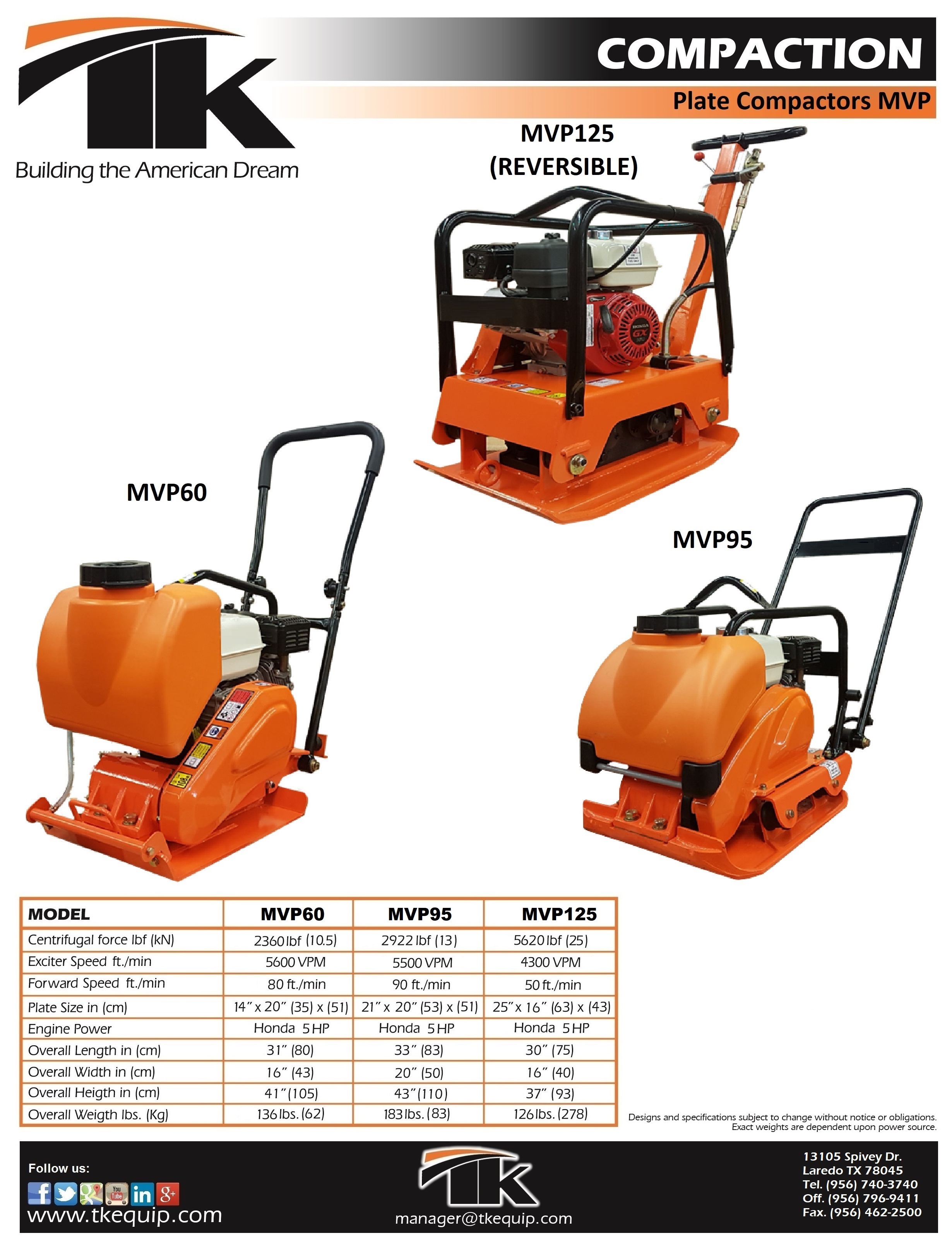 MODEL
MVP60
MPV90
MPV95
MPV125
Centrifugal Force Ibf (kN)
2360.5 lbf (10.5)
3380 lbf (15)
2922 lbf (13)
5620 lbf (25)
Exciter Speed (Frequency)
5600 VPM
5800 VPM
5500 VPM
4300 VPM
Compaction depth in (cm)
8 in (20)
10 in (25.4)
12 in (30)
12 in (30)
Max Forward ft./min
80ft./min
90ft./min
80ft./min
50ft./min
Efficiency ft2/hr. (m2/hr.)
4800 ft2/hr (450)
7100 ft2/hr (660)
7100 ft2/hr (660)
5400 ft2/hr (500)
Water Tank Capacity
3.4 gal (13)
2.1 gal (8)
3.4 gal (13)
N/A
Plate Size in (cm)
14"x20"
(36) x (50)

19"x21"
(48)x(53)
20"x21"
(50)x(53)

16"x25"
(40)x(63.5)

Engine Power
GX160 Honda
GX160 Honda
GX160 Honda
GX160 Honda
Overall Length in (cm)
31" (80)
31" (80)
33" (83)
30" (76)
Overall Width in (cm)
16" (40)
20" (50)
20" (50)
16" (40)
Overall Height in (cm)
43" (108)
45" (114)
43" (108)
43" (108)
Operating Weight lbs. (Kg)
136 lbs. (62)
186 lbs. (84)
183 lbs. (83)
278 lbs. (126)
MVP-125
Low maintenance design.
Superior compaction on any direction forward and reverse
Ideal for sand, gravel and mixed soils in narrow trenches and along foundations, walls, and abutments.
Easy-to-reach controls
Large shock mounts for upper deck vibration reduction.
Wear-resistant baseplates extend life, the open design reduces dirt building.
Centrally located lifting eye for transportation.
Wrap around protection cage protects the plate from accidental job-site damage.
Heavy duty industrial throttle available as an upgrade.
Transportation wheels kit available as an upgrade.